Biografie van de Mongoolse Prins Dschero Khan en een
klein deel van zijn boeiende leven gedocumenteerd.
Wat leerzaam is voor wakkere geesten!
Door velen gewaardeerd en door velen Hollanders verguisd, maar deze verguizing vindt Dschero Khan geweldig!! Een teken dat hij in de belangstelling staat. Hij zegt: "velen moeten voor hun centjes nog altijd hard zwoegen, ik gelukkig niet meer". Daarom kan hij schijt hebben aan alles. Hoe meer vijanden hoe meer roem. Wat Khan kan, kan Khan alleen. Alles wat het volk onderneemt, slaagt hoogstens vlak voor het succes. En zo is het altijd geweest en zo zal het altijd blijven.
Ik word soms in Nederland voor gek verklaard maar zo gek als de Nederlanders zijn in hun oranjekoorts tijdens de voetbal EK of WK ben ik nog lang niet. Zelfs de hoertjes bieden hun klanten oranje condooms aan en als iemand tijdens de wetstrijden komt te overlijden kan hij in een oranje kist begraven worden. Ga dat maar eens uitleggen aan een buitenlander! En toch ondanks alles vind ik het erg schattig!
Dat heeft mij aanleiding gegeven voor de volgende spreuk: Wanneer iedereen gek is word 'gek' als normaal beschouwd maar de wijze onder de gekken word dan als gek beschouwd!
Een groot deel van Dschero Khan's inkomen is belasting vrij maar helaas niet alles. Hij vindt dat hij behoorlijk wordt uitgemolken. Wij houden allemaal van Holland, maar houdt Holland ook van ons? Dit vraag ik aan de Nederlandse regering. Ik leef in harmonie met de belastingdienst omdat ik een steentje bijdraag door 'Dagobertducktaks' te betalen voor het welzijn van de staat der Nederlanden. Deze zelfvoorziener geeft alleen, maar neemt zelf niets van de Nederlandse staat.
Wereld burger met al zijn geneugten als levensgenieter. De hemel moet je zelf op aarde maken en ik ben profeet van mijn eigen hemel. Verliefd worden op je fantasie, je goede leven, het vrouwelijk schoon en op jezelf. Dat kunnen alleen levensgenieters die de vrouwelijke wezens zien, als het goddelijke op aarde.
Prince Ganjuuryn Dschero Khan
From the Royal Bordschigin Family of
Mongolia
Descendant of Gengis Kha-Khan
Son of Bordschigin Prince Ganjuur Khan from
Ulaanbaits at the Onon river, Khentii Provinve and
Princess Altan Cesek from Kalashin, Gobi Province
85. Het bewijs dat DK daadwerkelijk Prins van Mongolie is
86. First Visit Mongolia (1991) [FILM]
87. Koninklijke rondleiding door Mongolië en Naadam spelen
88. Meijers als vorst ingehaald
89. Geboorte gebied aan de Onon rivier van Gengis Kha-Khan en Dschero Khan
90. DK's herinneringen Bogdo Khan Paleis
91. Rondleiding en opening Bogdo Khan Paleis
92. President World Mongian Martial Arts Federation
93. Wreedheden van mensen
94. Shamanistische meditatie voor regen
95. Boek: Secret history of the Mongols
84. Koninklijke familie
Dschero Khan een groot zakenman
73. Honorary Board of Director of Said Association
74. World Mongolian Federation - Koeritais [FILM-TV DOCUMENTAIRE]
75. Gengiz Kha Khan & Dschero Khan vereerd in Taiwan [FILM]
76. DK biedt 3 miljard aan Minister President Kohl
99. Untergang des EURO IMPORTANT DOCUMENT
76. DK biedt 3 miljard aan Minister President Kohl
Dschero Khan is een echte oorlogsman, een krijger en een monnik. Hij is trots op de Duitse Fallschirmjäger
(zie §2 The four most important documents)
(zie §7. Dalai Lama) (zie §27. Vredes missie Belfast)
(zie §49. Duitse Para Commando's - Duitse Fallschirmjäger)
5. Nederland 2 - Het bloed van Genghis Khan 2007 [FILM NL+EN]
10. Nederlandse geschiedenis in Indonesië- [FILM]
11. Kapitein Raymond Westerling - Dschero Khan
47. HBS gevechten/commando training NL Leger ISK Harskamp met Duitse Polizei Sport Verein uit M'Gladbach [FILM]
48. Bundesgrenzschutz Polizei
49. Duitse para commando's - Duitse Fallschirmjäger & DK Alten Adler
50. D.K. adviser Special Forces
51. Chinese Special forces Rep. of China (Taiwan)
52. Leopard II tank demonstratie Duitse Leger
53. D.K. in actie als para bij een brandhaard [1 FOTO]
54. DK is trots op Koreaanse NDVN [FILM]
55. DK is trots op Koreaanse NDVN [FILM] - Oorkonde President Korea
56. Onderscheiden door Generaal Kung Ling Sheng
57. Instrument of surrender & waardevolle samurai
58. Portret Dschero Khan - Ninja [1 foto]
59. Klewang vereniging oud korps marechaussee
60. IVMOB - Internationale Vriendenkring voor Militairen, Oudgedienden en Burgers - [FILM]
61. BSB - Beierse Soldaten Bond - 1874
62. Bundesvereinigung Feldmarschall Radetzky, Wenen 2011
63. Bundesvereinigung Feldmarschall Radetzky, Wenen 2012
65. Militaire dodenherdenking Duitse Fallschirmjager Soldaten
66. Indrukwekkende herdenking van het Belgische Geheime leger
67. Stichting Herdenking Japanse Jongenskamp. (S.H.J.J.K.)
In China staat hij bekend als een groot geleerde in de Chinese klassieken en in de Chinese mistiek. Hij bezit vele met summa cum laude certifcaten.
(zie §12 t/m 22 +94)
12. DK ambasadeur Chinese cultuur
13. Schamanismus
14. Primaire - Taoistische Medische Chi Qong [FILM]
15. Taoistische Universiteit Taiwan & Peking [FILM CHI QONG]
17. Chi Qong demonstratie in NL [FILM]
18. HQ Taoistische Universiteit, HORST [FILM]
19. Universität Düsseldorf - afd. Kinderpsychiatrie
20. Wetenschappelijke oorkonde Heinrich-Hoffmann-Gesellschaft
21. Een Mongools gezegde - Taoïstisch denken
22. DE CHINESE ABACUS
23. Chinese Tai Chi Chuan Dynasty - Yang Style
24. Boek Taologie door Dschero Khan - Chen Tao Tze - Tao Se & Boek I TJING
25. Economie en mensenrechten. (zie ook hfst 25)
26. Koeboe stam in Aceh, Sumatra [DIPLOMA'S; Antropologie, Pharmacologie, Psygologie]
In Duitsland wordt hij geroemd om zijn bijzondere voordrachten
Dschero Khan is ook een echte ex-tongvechter,
4-voudig kampioen
En daarom door het Chinese volk de tijger van Taiwan genoemd.
Vechten op leven en dood zoals gebruikelijk in de oude Chinese traditionele gokwereld waar miljoenen vergokt worden. Waar alleen de beste van de beste Chinese top vechters voor worden gevraagd. Hij vecht daar altijd onder zijn Chinese naam Chen Tao Tze, volgens zijn Chinese paspoort.
(Tonggevechten zie hoofdstuk 35 in NL)
(Tongkämpfe siehe Kapitel 36 in deutscher Sprache)
= 古式中國拳 =


時間追溯回到遠古遠古時代的中國,所謂<古式中國拳>淵源

自中國舊社會傳統精神下的一種特殊體式。

是一種打群架的殘酷爭鬪法門,一種浩大賭注下的生死決鬪,

贏者== 榮獲一筆相當豐厚的賞金。

輸者死者== 其家屬供給撫恤金作為安置慰濟用途。

此類鬪爭法門,在昔時,沒有任何正式的,正統的法規,準則,

屬於一種不受一班外人所知曉的秘密門道。

隨著時光流逝,隨著漫漫長長的歲月洗禮,逐漸衍繹雛形成為

一種有組織,有系統,有規章,有程序的黨派組織團。

目前,風行於亞洲諸國各大大小小民間層面。

師傅 陳道子,他早期青年時代,追隨這類純中國傳統法門,

並有四次獨占鰲頭的記錄史。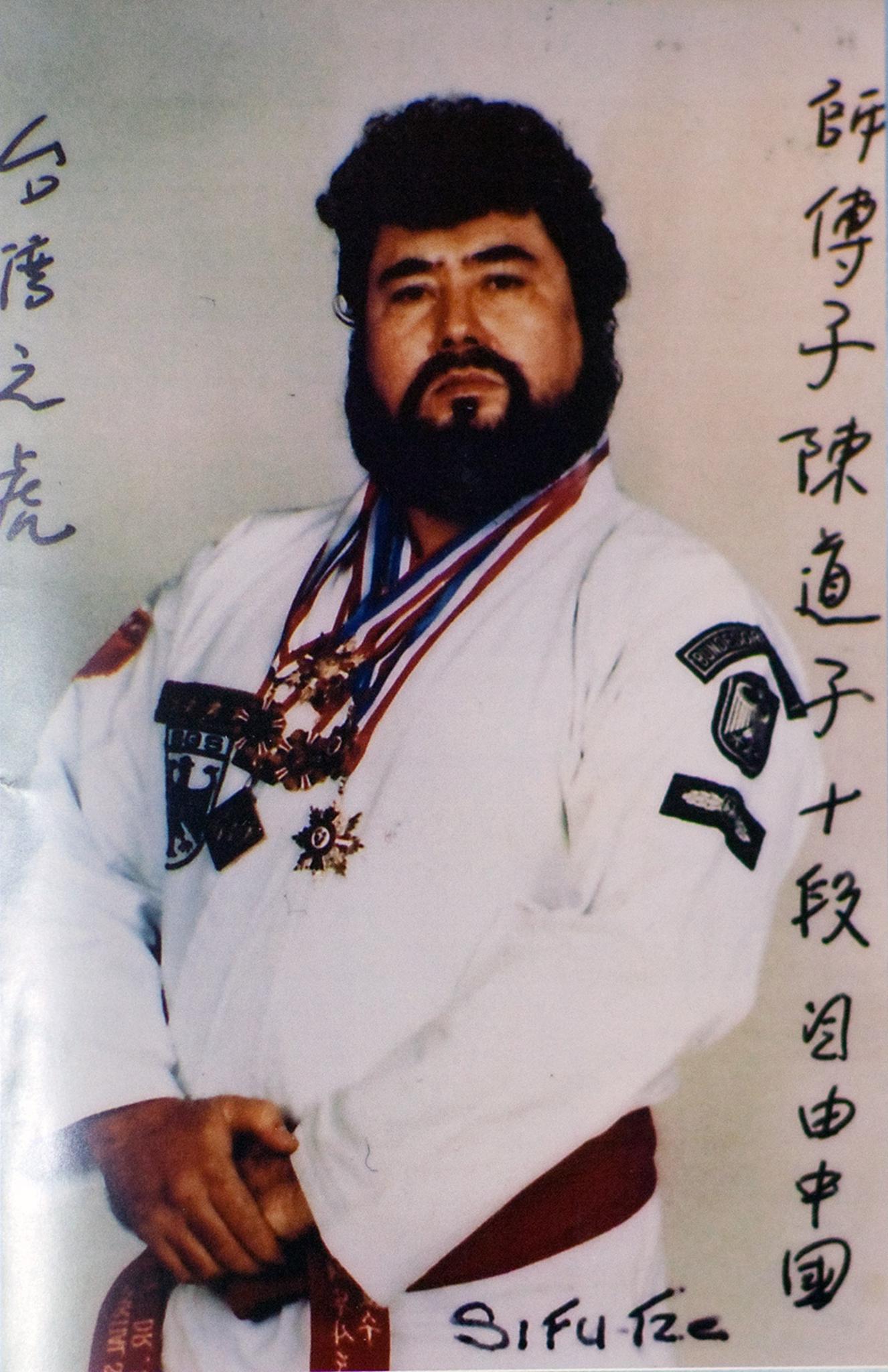 De onbedwingbare (zie §29 t/m §45)

傑洛汗陳道子重要文獻


Dschero Khan zijn invloed op de geschiedenis van de zwarte Amerikanen
From Black Power to the First Black President (zie §29) (siehe §28 D)
28. (D, in deutscher Sprache) Shaolim Kempo (Wushu) Geschichte und Länder, in denen DK Unterricht gegeben hat. [FILM]
29. Shaolim Kempo (wushu) geschiedenis & landen waar DK les gaf. [FILM]
30. Martial Arts expert + Koninklijke NL Kempo Bond
31. Bakstenen en ATTILA
32. Stier, stil protest
33. Certificaat 12e dan Martial Arts & Philosophy
34. Taekyon, old Korean Martial Arts & Philosophy
35. (NL) Chinese tonggevechten op leven en dood
36.(D, in deutscher Sprache) Chinesische Tongkämpfe auf Leben und Tod
37. Politie Academie Taiwan [FILM]
38. Sportman van het jaar 1979 uitgeroepen door de Samurai
39. School van Gogen Yamaguchi
40. Kempo Karate geschiedenis uit Okinawa
41. Wereld kampioenschappen Karate [FILM Okinawa]
42. Gewicht heffen discipline Bankdrukken
43. Kempo Naadaa - [BOEK INFO NL]
44. Boek WMAA-ROC Schule der Kampfkunst [BOEK INFO]
45. Hall of Fame - Comite Behoud Martiaal Erfgoed
46. Biografie - De laatste Khan - [BOEK INFO+FILM]
47. HBS gevechten/commando training NL Leger ISK Harskamp met Duitse Polizei Sport Verein uit M'Gladbach [FILM]
48. Bundesgrenzschutz Polizei
Ulaanbaits, Chentii province, Mongolia, birthplace of Dschero Khan
Vervolg website zie DATABASE.