Gegevens

Categorie: Database
Lezingen
Geachte website bezoeker, dank voor uw interesse in mijn persoon.
Rekening houdend met mijn leeftijd zal ik op uitnodigingen m.b.t. officiële plichtplegingen vanaf nu negatief antwoorden. Uitzonderingen hierop kan ik alleen nog maken tegen een tarief van € 30.000,- per uur, gerekend van vertrek tot thuiskomst.
---
Sehr geehrter Website-Besucher!

Danke für Ihr Interesse an meiner Person.

Mein Lebensalter berücksichtigend, werde ich in Zukunft auf Einladungen, die offiziellen Charakter haben, nur noch negativ antworten.
Sollte ich doch wider Erwarten eine Einladung annehmen, dann nur zu einem Stundenhonorar von € 30.000,-- ab Anreise bis einschliesslich Rückreise.
---
Dear website visitors!

Thank you for your interest in me personally.

Taking in to account my age, in future I will only reply negatively to invitations having an official character.
Should I exceptionally accept an invitation then only under the condition of the payment per hour of € 30.000,-- including arrival and departure time spent.
傑洛汗陳道子之傳記
Curriculum vitae
Diplomat and Advisor

of the Mongolian Government O.D.

Prince Prof. Dr. Ganjuuryn Dschero Khan

from the Royal Bordschigin Family of Mongolia

Prince of Chentii

The last Khan of Mongolia

Descendant of the King of the Kings

Gengis Kha-Khan

from the Royal Bordschigin Family of Mongolia

Paperback in Dutch "De laatste Khan"

Voor het eerst op deze wereld op schrift gesteld door de oer-Taoïst

CHEN TAO TZE DSCHERO KHAN in het jaar van de tijger 1986.

Wordt pas na zijn dood uitgegeven door Professor CTM C.L. Tao Saan.

Getekend door de Ambasadeur Chinese cultuur voor Europa

Nach dem Princip von Sifu Tze Prinz Dschero Khan

ISBN-13:9783842364486 (paperback in German)

Member Bayerischer Soldatenbund 1874 Bundesgrenzschutz Ehrenmitglied 2./GSA Bonn

Member German Special Forces Airborn Member Bund Deutscher Fallschirmjäger der Europaischen Fallschirmjäger Union U.E.P. - 1. LL Div-KLK-DSO Chief instructor for Police and Military Forces worldwide

Member Bundesvereinigung FM Radetzky, Wien Österreich

Honorary Chairman and Founder of I.V.M.O.B. International


ALTER ADLER

Zijn parachutisten titel bij de speciale eenheden van de Duitse
Fallschirmjäger (para-commando's) met specialisaties in DSO,
KSK, Kampfschwimmer

De tijger van Taiwan in de Rep. of China

De onbedwingbare in Taoïstische wereld

De klewang Satan (duivel) in Indonesië

En een groep Hollanders noemt Dschero Khan de fantast omdat
ze hem niet willen of kunnen geloven, dit is omdat hun intelligentie
nog niet rijp is. Hun nuchterheid is vaak hun domheid.

Member 2nd US Div. 38th lnf.Reg. N.D.V.N. Member Special Forces
Worldwide Association, Liverpool UK

Special Forces Combat Veteran in Guerilla Wars Airborne CCC
- Korea - Vietnam - Laos - Cambodia (CIA) & RVA Airborn

Expert in Secret Chinese Tjeke or Djinger (Ninja)
All Combat (killing) Martial Arts

4 times World Champion in Chinese Tong Fight
(Fight on Life or Death)

President Mongolian World Martial
Arts Federation

President W.M.A.A. and President Royal Martial Arts
University ROC.

Rector Magnificus CTE University
Oude visite kaart jaren 80-tig.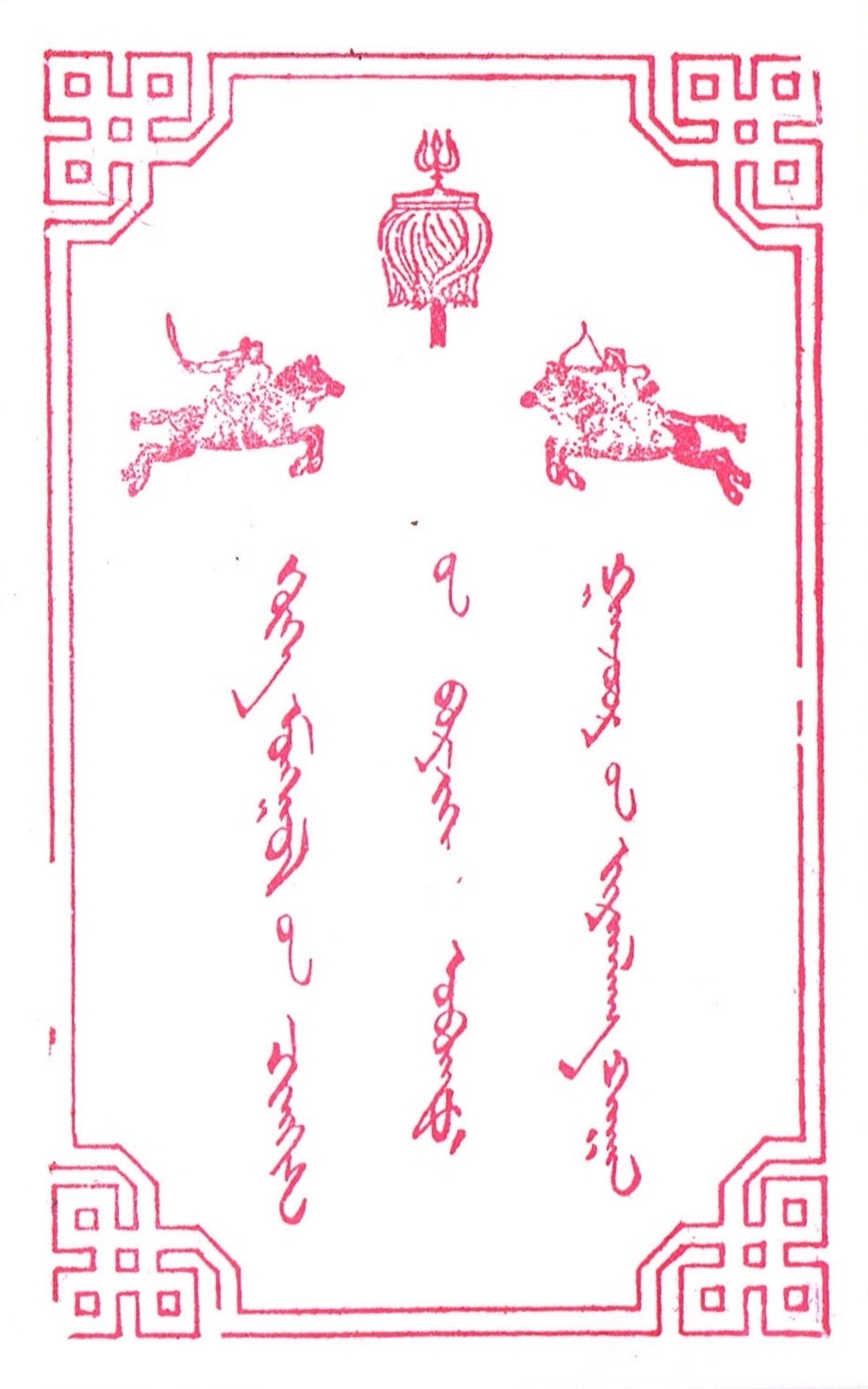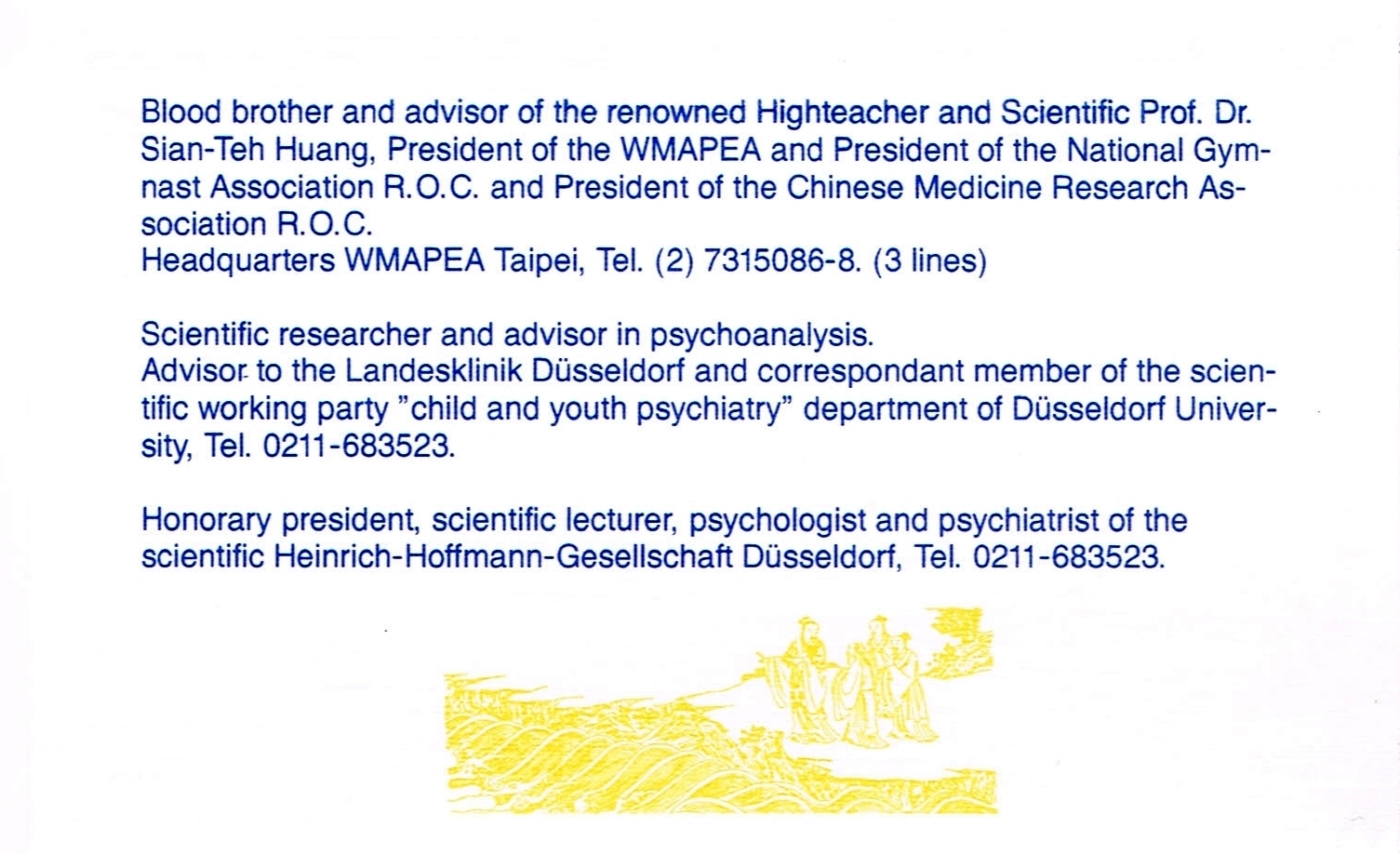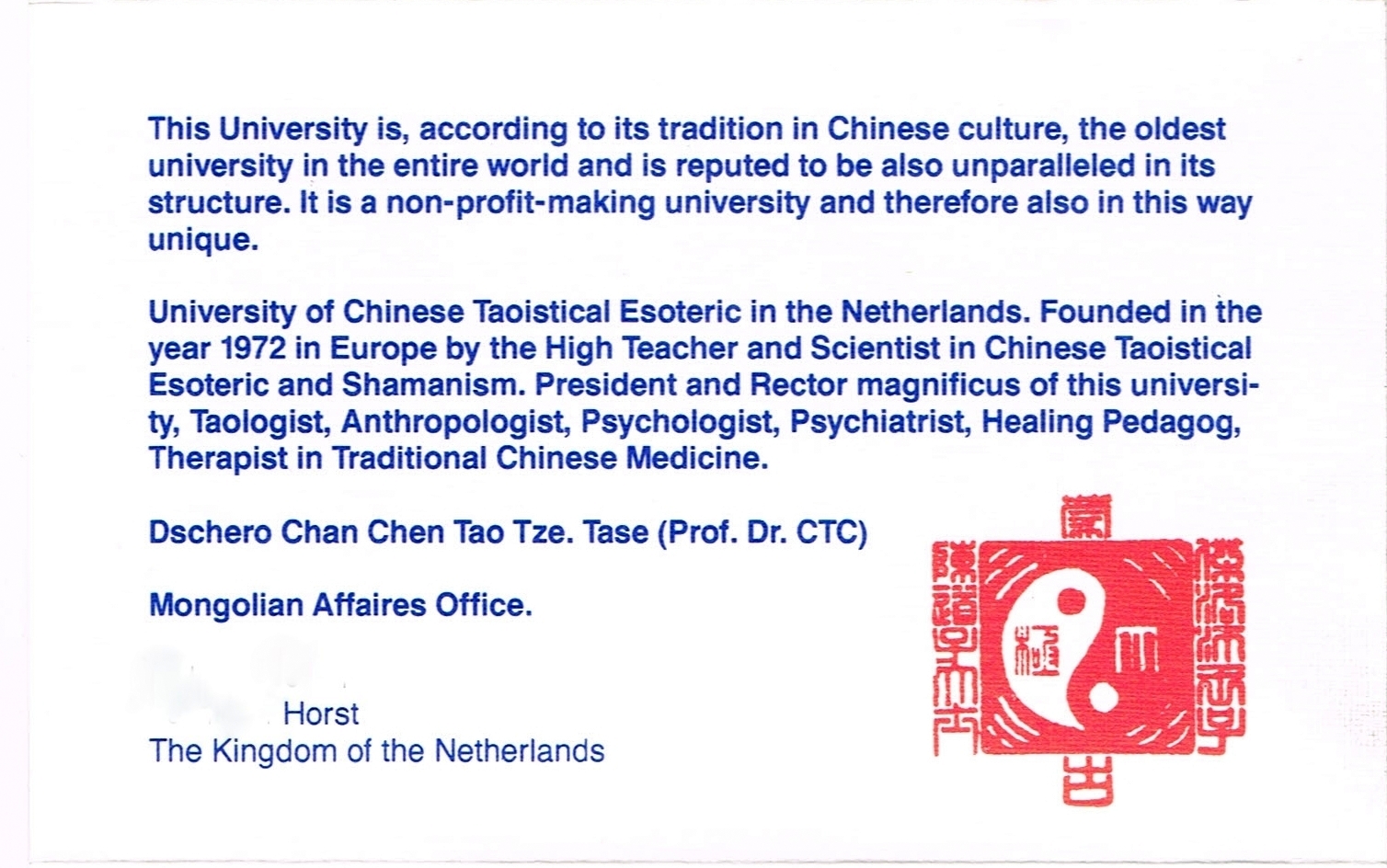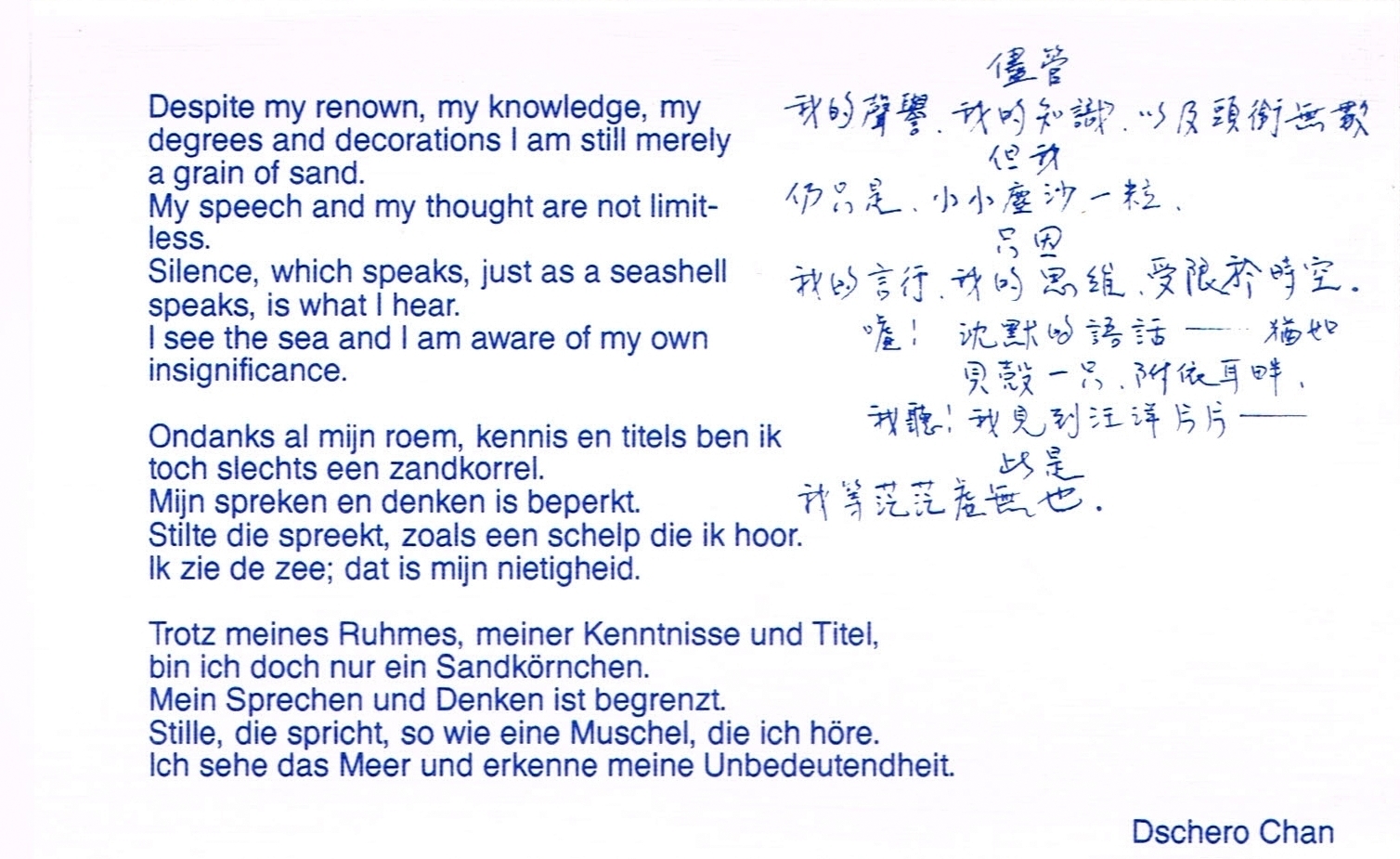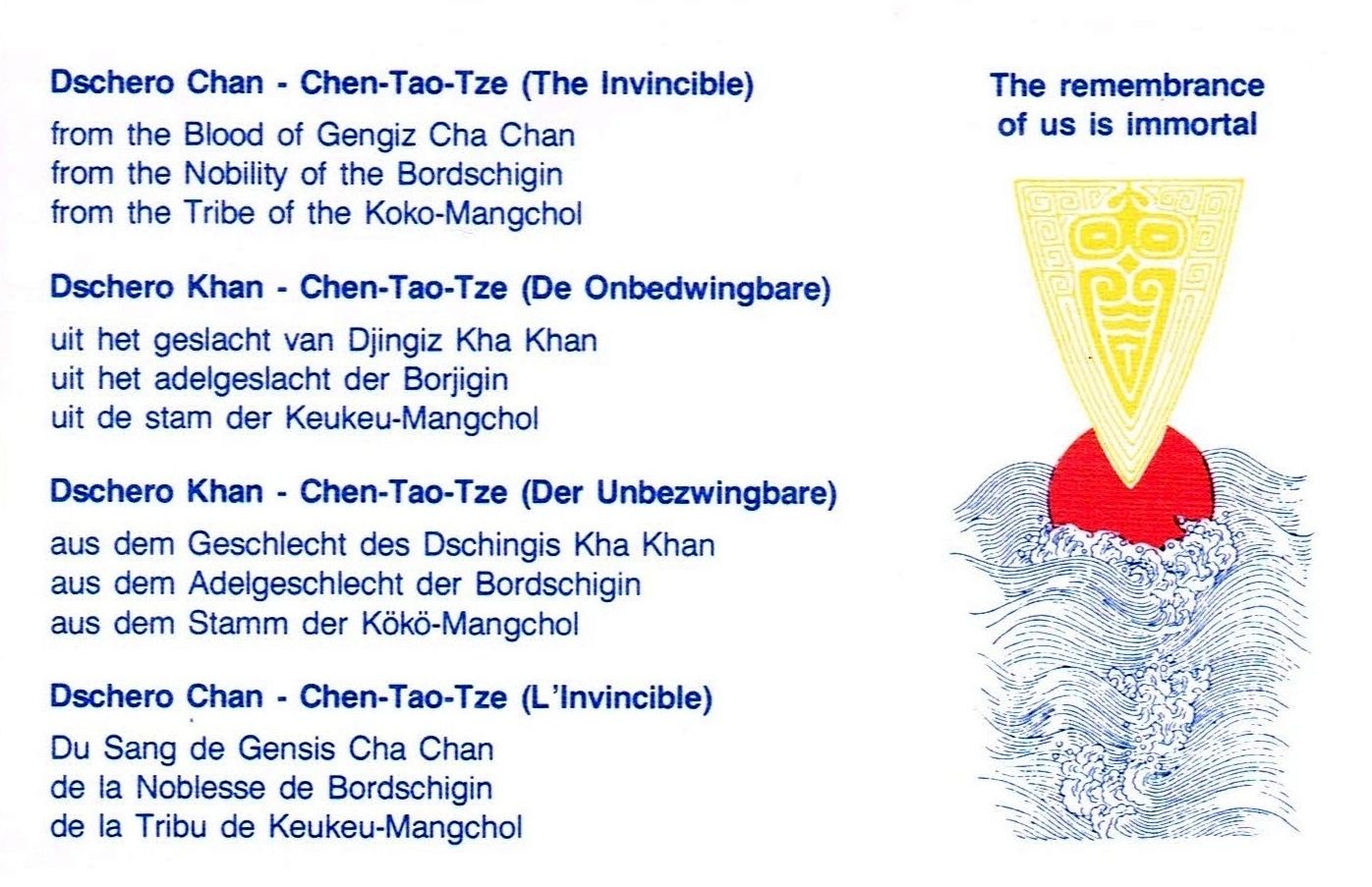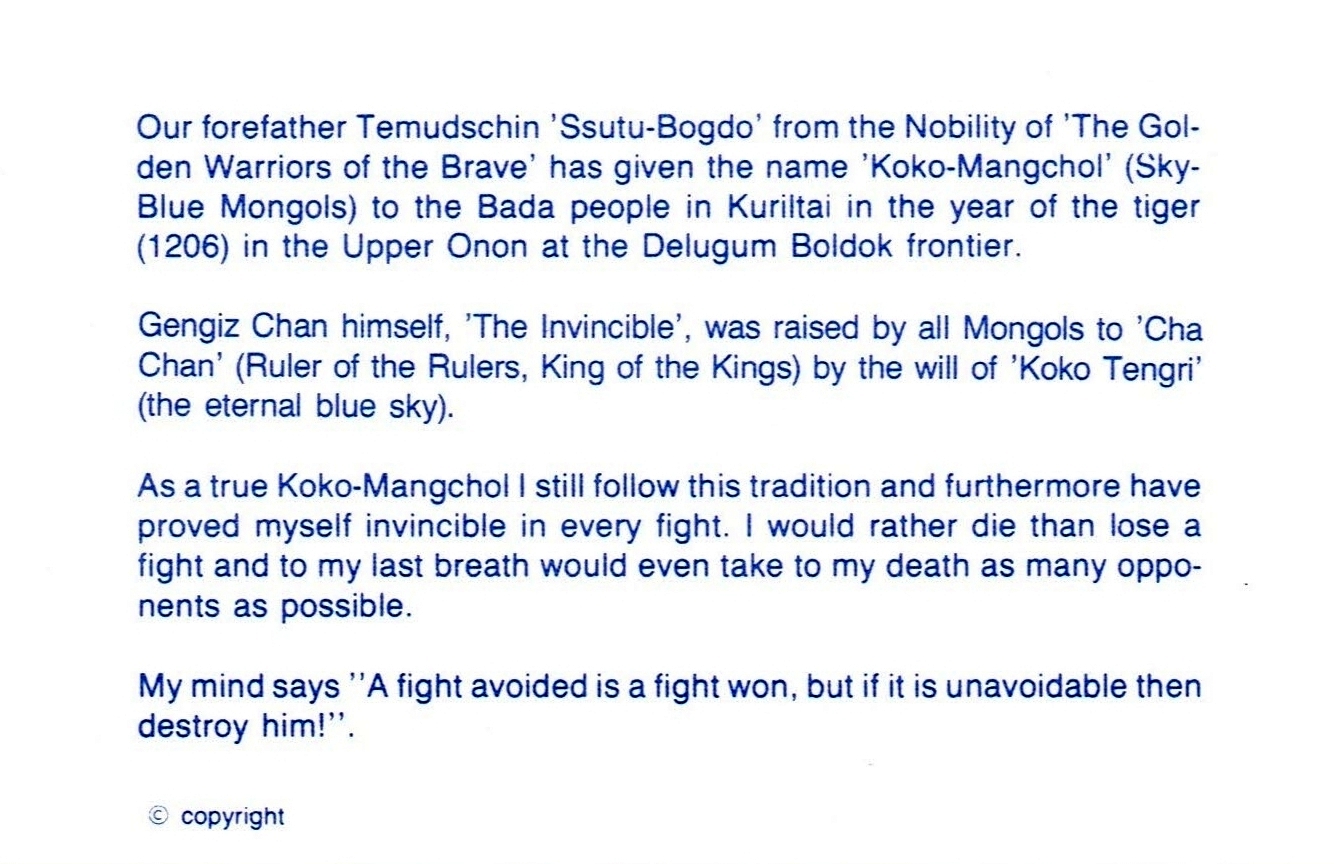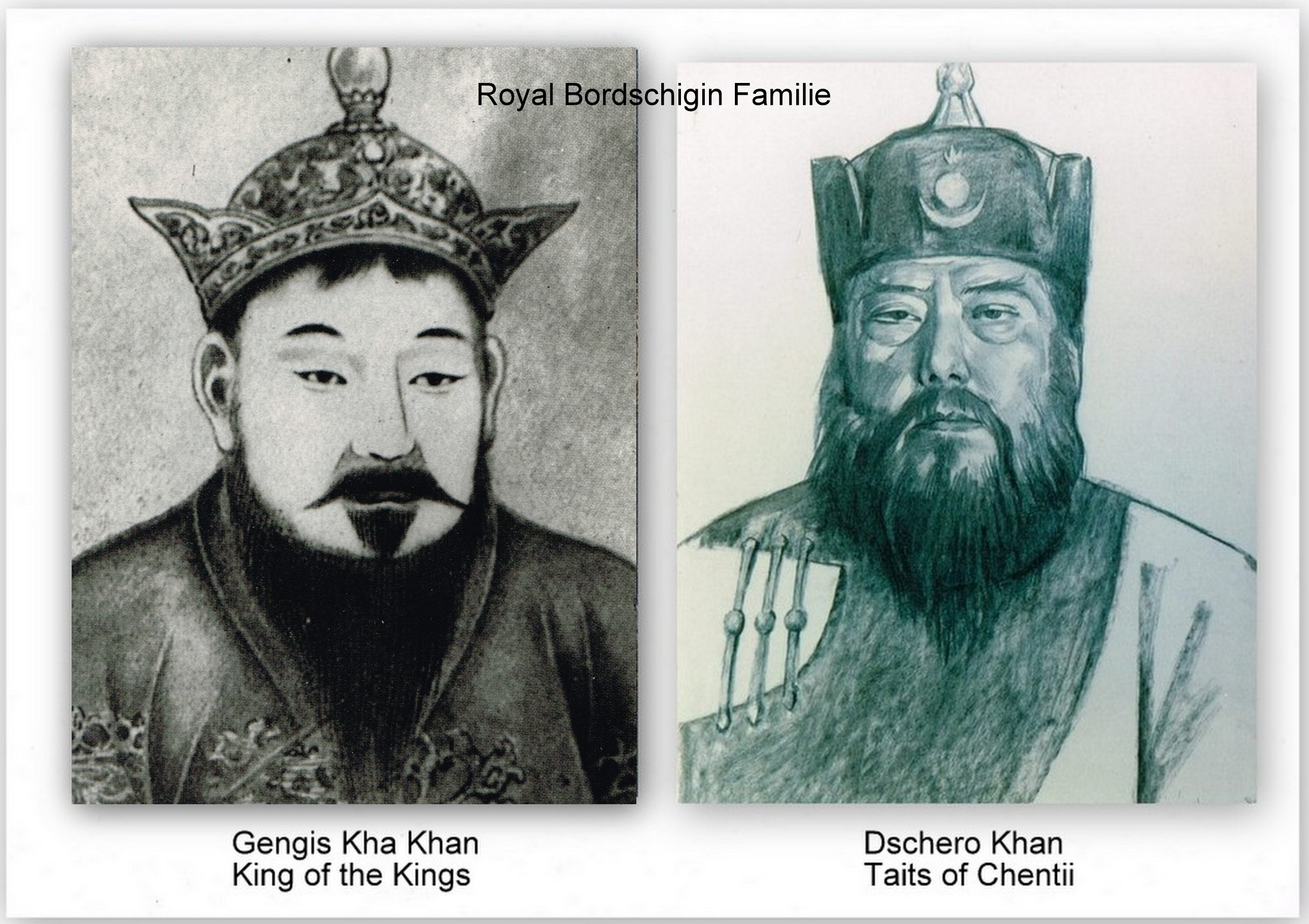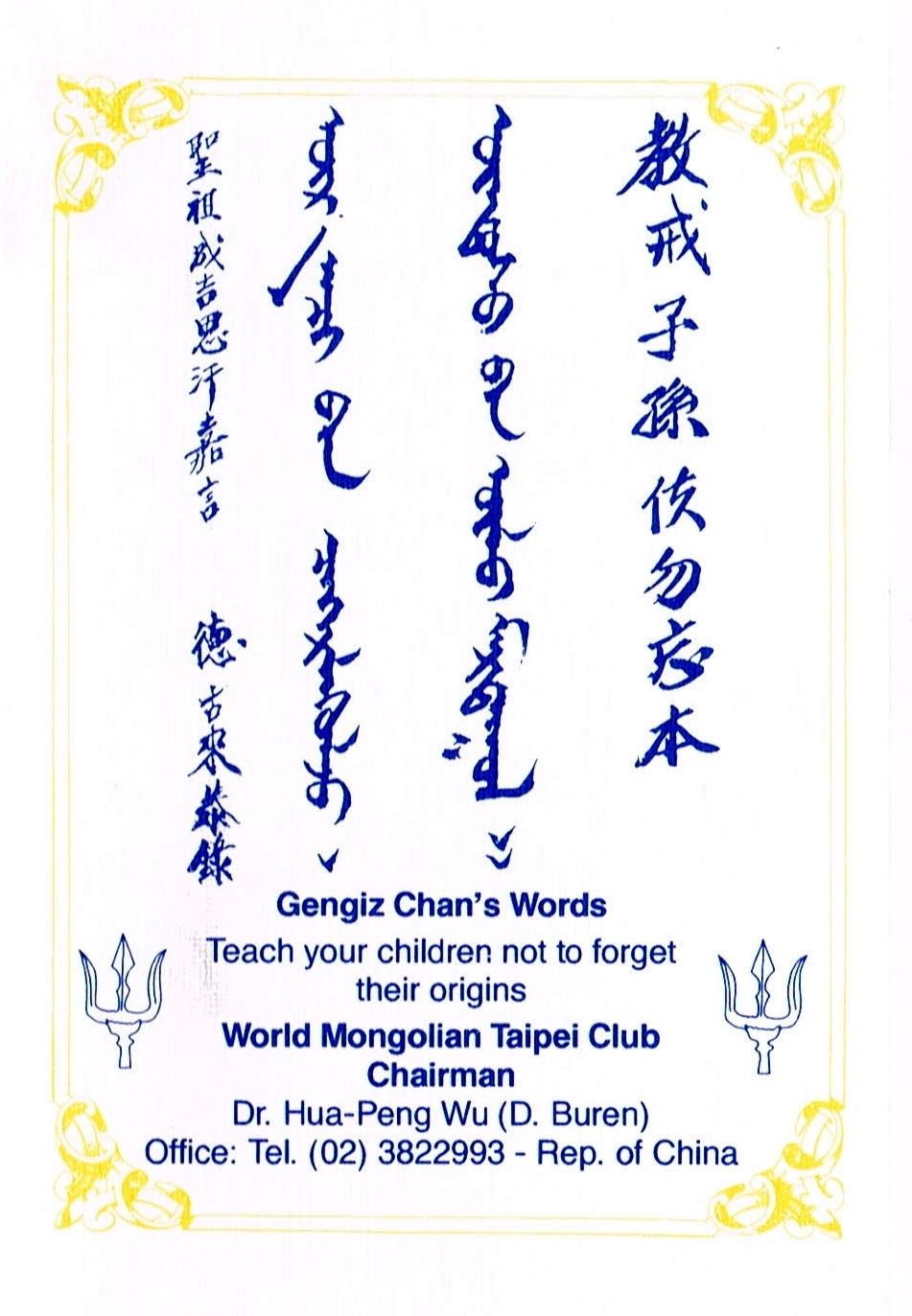 Nieuwe visite kaart 2013